D fender description:
D type marine rubber fenders are produced by extrusion in extensive range of sizes. They are ideal for small quays and piers to protect tugboats, fishing boats, barges and pontoons.
Whale fender supplies customized length D fenders with drilled mooring holes on the top and bottom of the fenders as required specific application, as well as mounting hardware bolts,nuts,anchors.
D fender applications:
Small quays
Wharf
Fishing boats
Barges
Pontoons
Tugboats
Work boats
D rubber fender specification&dimension: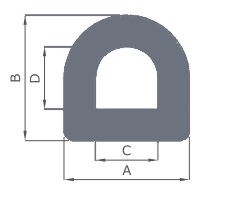 Serial No.
Nominal size
Performance at 50% deflection
Weight
A(mm)
B(mm)
C(mm)
D(mm)
Energy absorption
Reaction force
Kg/m
(KN-M/m)
(KN/m)
WF-DD100
100
100
50
45
1.4
77
10
WF-DD150
150
150
75
75
3.2
115
22
WF-DD200
200
200
100
100
5.7
153
38
WF-DD250
250
250
125
125
8.9
191
59
WF-DD300
300
300
150
150
12.9
230
84
WF-DD350
350
350
175
175
17.6
268
115
WF-DD400
400
400
200
200
23
306
150
WF-DD500
500
500
250
250
35.9
383
234